Remodeling contractor for modern people and vintage homes.
Remodeling with Character
Established in 1988, Ben Quie & Sons is a remodeling contractor with a passion for the architectural styles and craftsmanship of the late 19th and early 20th centuries.  The homes we work on will be passed on from family to family.  Our goal is for your home to truly be timeless – a living part of history, remaining after we have gone on as a witness to the profound meaning of craft and home.
Home Remodeling Projects
We seek out and celebrate the character of each home we have the honor of transforming. We are artisans – creating functional works of art for people like you to live within.
We've got this
It is our mission to build enduring relationships with our customers. Since the foundation of any solid relationship is trust, Ben Quie & Sons works only with honest and dependable individuals. Each member of our remodeling team works not only with skill, creativity, and passion but also with the utmost integrity.
No Worries
At Ben Quie & Sons our goal is to make your remodeling experience as seamless as possible. We'll guide you through a collaborative design and development process while providing clear communication. Before you sign a construction contract, we make sure you understand all the details of your project.
Practical Solutions to Old-House Challenges
Ben's practical solutions to our old-house challenges impressed me as much as his ability to meet his time schedule. I have always been able to rely on his honesty and his great sense of humor. His outstanding craftsmanship and aesthetic sense have been invaluable.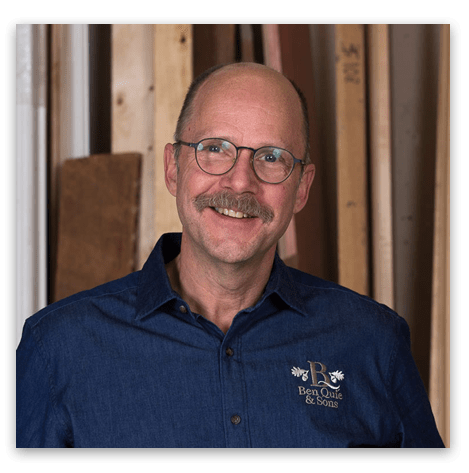 Tell me about your home!
As I've worked on houses, the ones that fascinate me most are the ones with old architecture. I love the lines, and proportions, and details, and seeing how they all work together. And also the challenge that presents, to build something new that seamlessly ties in with the old, that will last a hundred years.