Frustrating Small Kitchen Design
A married couple in a 1926 Dutch Colonial home reached out to us in hopes of a design solution for their small kitchen. It was old,  outdated, and lacked storage and counter space. No matter the size, if a kitchen has a poor layout it can drive you crazy. A full gut allowed the team the blank sheet we needed to reimagine the space.
A+ in Space Planning
The existing windows and doors made cabinet placement difficult. By shifting one window higher, closing up the second window, and relocating a doorway, the new kitchen layout is now almost twice as big. 
Versatile and Open Layout
The "U" shaped design is a versatile layout for kitchens large and small because it offers an open end for access. Cabinetry and countertops span around three sides and create an efficient and ideal workspace. 
Shifting Window #1
Move the slider to see the transformation.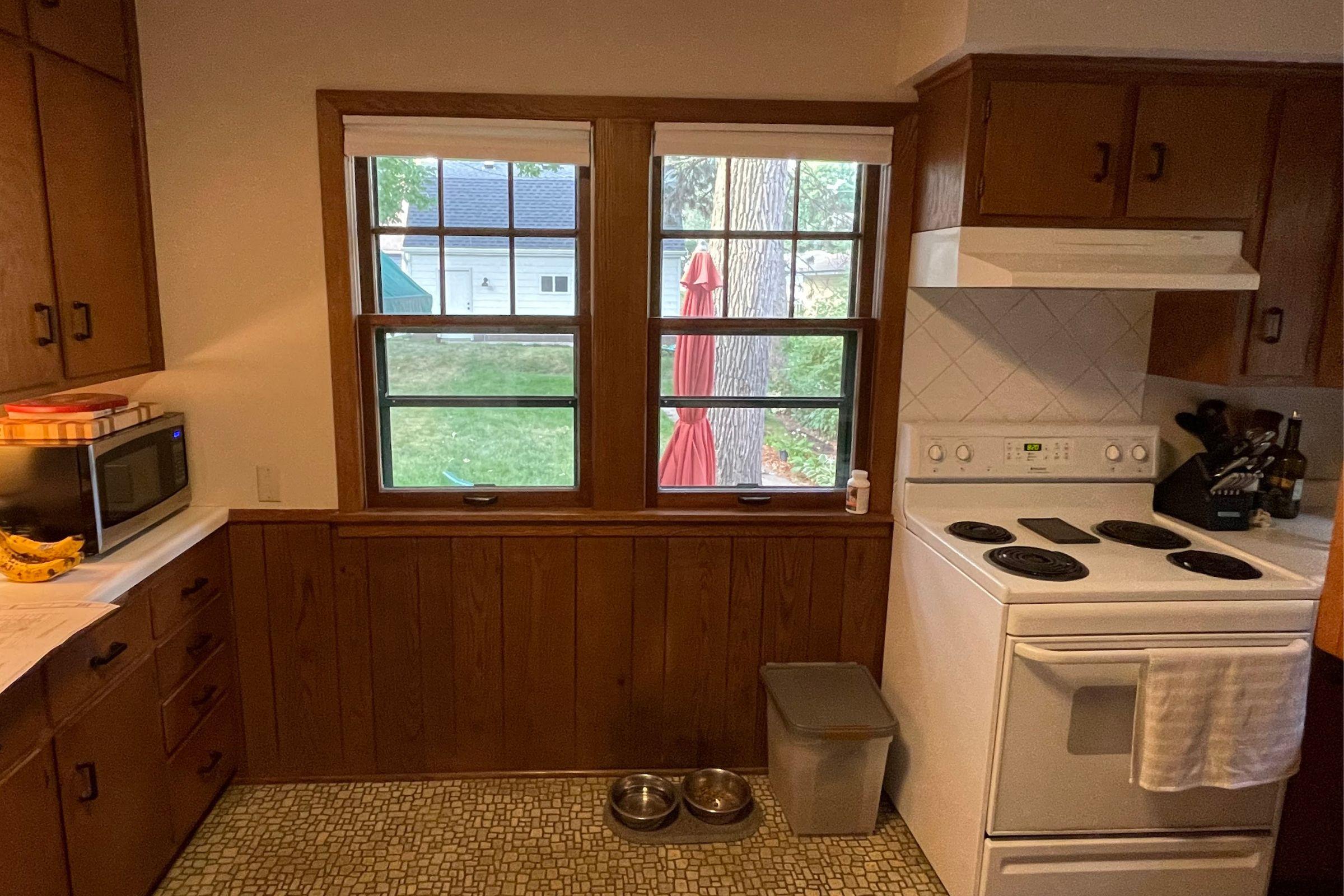 Maximizing Every Inch
In an already small kitchen, there was a good chunk of space being unused. By raising the window, we were able to fit in a dishwasher, counter, and cabinets. You'll notice that the sink was also relocated for functional and aesthetic reasons.
Eye-Catching, Handmade Tile
Just above the exposed apron front sink is a unique handmade ceramic tile. From the Angela Harris Dunmore Series, the tile color Vechio, gives the kitchen a splash of character.
Removing Window #2
Move the slider to see the transformation.
Extended Cabinet Space
A key decision that allowed for a better layout was to close up one of the windows. In doing so, we were able to extend the cabinet space to the ceiling. As you can tell, closing it didn't sacrifice the amount of light that the kitchen gets. Natural light still flows into the space from window #1 and adding a few new light fixtures brightens the room even more.
Key Storage Details
The cabinetry selections put tight spaces and corners to good use. There are pockets of pull-out storage that maximize the cabinet space. Everything in the kitchen has a designated space, and more importantly, no more cluttered countertops!
Relocating the Doorway
Move the slider to see the transformation.
Valuable Counter & Cabinet Space
By slightly moving the doorway that leads into the dining room, we were able to extend the kitchen and create a better flow between rooms. Additionally, the red oak cabinets were stained to match the existing first floor trim creating a cohesive design. 
Team Credits
Designer: Mary Ellen Rantanen
Project Manager: Paul Gorton
Lead Carpenter: Leaf Enz
Photos: Troy Thies
An Eye for Restoring Old Homes
Ben's team did an amazing job renovating our kitchen. While we initially worked with an architect, Ben provided his expert design guidance as well. He truly has an eye for restoring old homes.
Shannon O'Brien and Shaun Curtin